V for (a Very Damp) Victory!
March 26, 2010
Slipping, sliding, shoving-tripping
Slick wet grass, sticky black mud
clinging to cleats, coating socks
Torrents of water stream down the jerseys
which is OK because we're hot and sweaty

Shake dripping hair out of eyes
Yank the laces, whiplikecold
Static, frozen, a tensed mousetrap-
Waiting as one for the signal-
The whistle-
"FWEEEEET!"

Explode into action
Weave, dip, dribble-feint
Fake-out midfield, barrel over defense
Goalie dives in desperation
which is OK because he'll get a faceful of mud and a close-up of my
size-seven
Nike-cleated
final-goal-scoring
foot

Sink the shot
Ohhh, beauty
Who's the hero
Let the thunder roar, lighting crack
Only the soundtrack to this victory
And what a glorious, damp victory!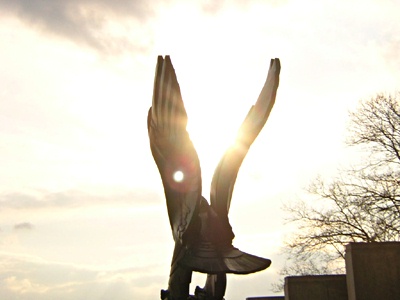 © Brittan S., Claremont, CA