Rice U
March 2, 2010
I was born on my uncle's fortieth birthday.
He was a chemical engineer,
brilliant and quiet and tall enough
to scrape the sky
and bring down stars to analyze
and hand out to us,
like candy.
I met him, my parents said,
eight months later,
when my ears had just been pierced
and I was watching the world
with newfound suspicion.
Even then,
he'd tell me stories
about growing up in Texas,
but he saved the darker stories
for later,
the stories about when
he was an engineering student at Rice
and both his parents,
my great-aunt and uncle,
were suddenly suffocated to death
by a lifetime of smoking.
(Then, he'd take a sip of his wine
and tell me never
to smoke.)
When I had reached the age
when I began to think for myself,
I found Rice again,
a bubble of green and learning
inside the largest city of my experience.
When I told my uncle about my dreams,
he looked at me,
brilliant and quiet and tall enough
to touch the lowest boughs of birch trees,
and said nothing.
In that moment of perfect silence,
I saw more clearly than ever
into my family's smoke-filled past.
I could understand the feeling
my uncle had,
the feeling of cooling
his blistered feet in a river
and seeing his reflection
rise, from the clouded water,
again.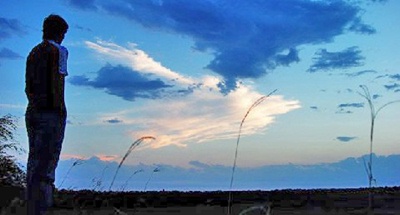 © Stefanie K., Katy, TX