Things Look Nicer Underwater, Except You Can't Breathe
MAG
February 7, 2010
The trademarked thud-thud-thud of the diving board
after a 9-year-old goggled goon was sent free flying through the air
became more and more inseparable from my pounding heart
the closer and closer that you walked.
Following the curves of your red string bikini
might have been initially interpreted as creepy.
But from three feet underwater,
tiny bubbles that slipped out of my mouth
were rendered into as high a degree of meaninglessness
when they reached the surface and popped into the tremendous, echoing atmosphere
as any words that could have slipped out of my mouth
toward you
on the clammy pool deck
that felt inexplicably cold
for such a warm July day.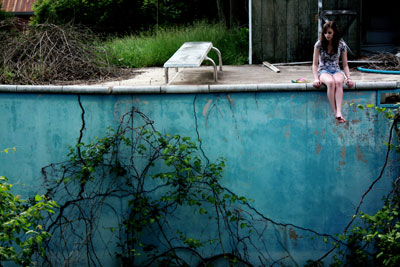 © Myra K., Somerville, NJ