Experience the Change
January 18, 2010
Background: We annually experience the change in seasons. In this poem, there are four figurines, which represent each season. One season will weaken and leave for next year, and another will replace it. As another season becomes dominant, they will receive the crown so that they have the power to rule to the greatest potential.
At once Summer utilized her powers for good,
Warming the air and the sea like summer should.
The sun beat down with potential so great,
All worries, with its loveliness, it could obliterate.
Summer loved the earth with a passion so deep,
She cared for it well, and it she did keep.
She lovingly embraced each day as it came,
Her fondness of all left her with no shame.
When viewed as a precedent for all the other seasons,
She was a marvelous model for a passel of reasons.
Never did she blink or lose attention at all,
For everything was dependent upon her until the arrival of Fall.
But Summer dared not think of the start of the cold,
For all joy from inside her it completely stole.
The change of the season was too much to bear;
Summer loved her season , but the crown she had to share.

Summer started to shiver and knew it was time
For autumn to rule, and for her to recline.
So she packed up her warmth and days of great length,
And gave her power to Fall, who now had the strength.
"Now, Autumn," she told him, "be kind with your leaves,
And don't get too cold; you know that's one of my peeves.
Be kind to the creatures that I have sustained.
Be kind to the trees, the hills, and terrain.
Be plentiful in everything in which the humans need;
Provide water for their mouths and food on which to feed.
I'm trusting you, Fall, to be a great king,
To take care of and nurture everything."
Then Summer kissed Fall with her sizzling flesh,
And said goodbye to the east, and then to the west.
She smiled at the creatures she'd so dearly loved,
And sang to the sky she'd kept clear above.
From her face fell a sentimental tear,
As she went away until the next year.

Now Fall loved the cold, but this Summer despised,
So he decided to make a fair compromise.
The temperature he would drop to a cold, chilly state,
But he would blow no wind to compensate.
The days went by and Fall remembered his commands,
He took care of the sky and of the land.
He remembered to provide for every creature on Earth,
From humans and horses to insects and birds.
But! He had also remembered something else she had said,
To be plentiful in the leaves of brown and red.
And Fall, with wary, looked around,
And saw leaves in the trees not yet on the ground.
The king at once knew the wind was the key
For the beautiful leaves to fall from their tree.
And Fall also knew that the children have been longing;
Longing and praying for the leaves to start falling.
He needed the leaves but wanted the chill,
But couldn't do both because of Summer's will.
Fall became very enraged, and unlike Summer,
Willingly ceased his power, to the hands of another.

Fall's bitter rage prompted Winter to awake,
And Winter knew Fall's power he would have to take.
Winter was aware of the temper young Fall possessed,
And knew placing Fall in a dilemma was not best.
Winter sat up from his nap and waited for Fall to arrive,
And thought of a way to make his patience revive.
And Fall stormed in and handed Winter his crown,
And told him to take care of the sky and the ground.
He said, "Rule how you please, and do what you like,
The earth had caused me nothing but tribulation and strife!"
Winter did all he could to relax and calm Fall;
But Fall was determined and nothing happened at all.
Out of his anger, Fall blew a frigid cold gust,
And leaving Winter alone, he disappeared in the dust.

Fall's freezing gust of wind set the standard of winter that year.
Because of Winter's laziness, the suffering of creatures was near.
That cold gust of wind stole all warmth from the air,
And left ice and snow everywhere.
But Winter showed no effort to make things right,
For all he wanted to do was close his eyes tight.
So he took a long nap and left every creature on his own.
Winter neglected everything known.
Busy lives halted in this time of frost.
Children cried and all hope became lost.
Trees and hills kept trying to believe,
That spring would come and their agony would relieve.
So people kept wishing, and hating this time,
While Winter slept deeply, all cozy and fine.

A warm ray of sunlight made him open his eyes.
Spring was here! Oh, what a surprise.
When a king sleeps and snores through his reign,
About a seemingly sudden end he cannot complain.
Now the old winter king did nothing for the earth,
But the importance of his title gave him an honorable rebirth.
Tears were conjured and melted the ice on his face,
As he beheld Spring's elegance, her beauty and grace.
Now Winter was arrogant, the way most kings are;
But he knew the energy and excitement of Spring made her better by far.
Winter smiled warmly though frigid he was.
He heard sounds of spring , like the tweet and the buzz.
Spring was waiting for her crown; this he could tell.
And he wouldn't give advice; she would do very well.
He placed the crown atop her delicate head,
Wishing she would leave so he could go back to bed.
And vain as most kings are, Winter still thought he was the best,
And none of his faults were ever confessed.
However, that day as he lay down to sleep,
Winter in his arrogance began to weep.
He realized he couldn't have given Spring advice if he wanted to.
He was so lazy about ruling, there was nothing he knew.

Little Spring danced with exuberance from place to place,
Brining happiness and warmth in a package of beauty and grace.
She brought life to the flowers, green grass, and trees,
And hummed happily with the butterflies and bees.
The unbearable cold was now obsolete.
Her mastery of the season was a notable feat.
Every creature welcomed Spring with a generous heart,
But they were even more anxious for summer to start.
Spring, young as she was, could not determine what she had done wrong.
She expressed her grief in a sorrowful song.
"Why, oh Why?" she sang through tears,
"Why do they badly want Summer here?"
But Spring prevailed, and tried to change their mind.
She thought to her attributes they must be blind.
Though Spring did feel weaker day after day,
And the rules of sharing she had to obey.
Vulnerable Spring now cried at the sights
That at one time had given her delight.

Spring approached Summer; more beautiful than she,
The reasoning of the creatures she could now see.
Jealousy wasn't what she felt, though; new feelings stirred.
One look into her eyes , she was comforted and reassured.
She spoke of her troubles, her worries, her fears,
Comforted that Summer was now so near.
"Darling, Darling!" Summer replied.
The earth adores you for it was the cold you defied.
But things grow old and creatures grow tired,
And therefore, we the seasons, must retire.
Just like now, how they are waiting for me,
In the cold winter months they yearned for your delicacy.
Little Spring pondered over these statements of truth,
And left until next year, in her fragile youth.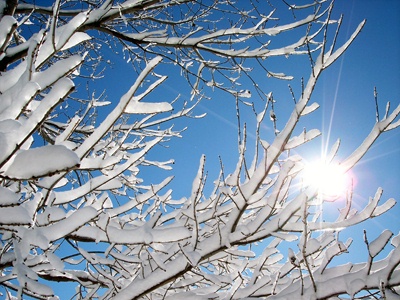 © Barbara S., Hoffman Estates, IL