Paper
December 6, 2009
I lay on a bed
in a bedroom
in a house
on a street
in a neighborhood.

Finally, during this transient moment in time, my mind and soul have conjoined.
The room is dark and yet I hardly notice the darkness as it lulls and envelops me
as a mother to a newborn.
Having no notion I accept it and allow it to do with me what it may.
Thus my mind and soul entwined fall into a state of paper.

I feel the heavenly notion of being flat and bare,
my arms outstretched transform into an almost weightless and hardly solid form.
I am clean and smooth, white and rectangular in shape,
effortlessly organized with sharp right angles that keep me.
I feel a burden no more, for there is nothing to prove; I Exist.

In one quick succession I am transported into some clever niche in the night sky.
Without much thought I allow myself to slip from the heights.
Rather than falling like the solid and heavy human being I once was
(that is, hideously and without much art),
I drift gracefully and with poise, each sway appearing to be precisely calculated
(and yet the beauty lies within the fact that it is not, and that it never had to be).

I find myself softly approaching a mystic body of water,
simultaneously translucent and opaque,
taunting me with its way of holding wonder and secrets.
I land upon its calm surface, the pond molecules and my paper molecules touch on all sides,
I become damp and turn into a shade of pond, dark and blue.
Blissfully, I settle just above the surface, peaceful and serene are only the tip of the iceberg; my paper being exhales euphoria.

Suddenly a heavy weight I recall as arm shouts uncomfort and begs to be moved.
All too quickly I am reminded that I am not paper,
I am human,
I am body.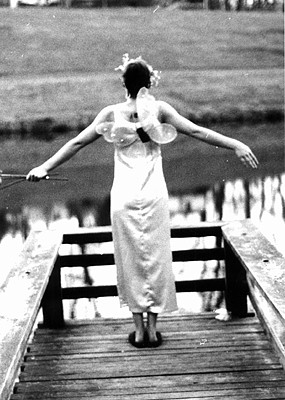 © Jennifer T., Cincinatti, OH