Cha Cha Cha
MAG
November 16, 2009
Cha Cha Cha

was the dance move we did in your room.
Before we made s'mores over the oven.
Smells of kitchen gas were my perfume and your deodorant.
The lips that spoke
nothing but sweet nothings and
complexities of Instant Karma.
I understood what you were saying but
my grandma told me to always let the boy win, or
at least think he's smarter than me.
That's how she got my grandpa,
aside from getting knocked up.
Last night she showed me the bra she wore when it happened.
Grandpa, wedding/baby, brain tumor, bed for six weeks.
I spend my six weeks of no brain tumor over a fake campfire.
My grandma said that if a date is fake then you will fake other things in life.
Peel away my parka, shirt, and even my skin too
until I am nothing but a dancing skeleton doing the
cha cha cha.
Right now, you couldn't tell the difference between my movement, me, and my grandpa,
except that he tangoed.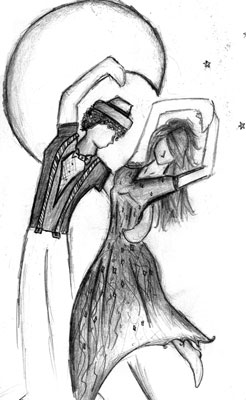 © Megan L., Everson, WA