My One and only Night Sky
October 22, 2009
Laying next to her on my old quilt
We gaze up at the stars.
Their beauty is nothing compared to hers .
Her black, raven hair frames her perfect face
Just like the night shy frames the stars
Making them seem brighter than what they really are.

Her eyes are like the stars
Sparkling with liveliness, and happiness.
In those big grey eyes
I can see we were meant to be.
Together forever.

I look back at the sky and see the moon.
The moon is like her too,
It is mystifying and full of secrets
But shows the love and light I see in her everyday.

She is like the darkness
The feeling she gives me
I feel like we are the only two people left on this planet.
She loves these sweet nothings I say to her
And she whispers them back to me.

She is my moon,
My stars,
My entire night sky.
Right here next to me.
I pray this never ends
That the sun never comes up
So I can stare at her forever.

I know she is my fallen star
Or more like an angel.
I will take her into her arms
My beautiful night sky
And love her forever.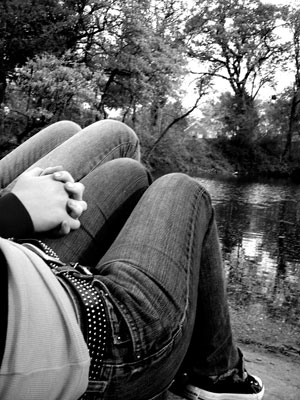 © Lauren R., Edmond, OK