The In-Between
October 19, 2009
With a gray sun setting hazily, hands in pockets -exhale cold crisp winter.
Pink and red puffs blur in the park- how do they not fall over
In such constrictive puffy clothing? Wintertime too cold for play, yet there they are.
Laughing and oblivious.
Collide like bumper cars in their over-filled vests.
The sun is grayer now, and with each breath they're pulling in tainted air.
Tainted, stained, invisibly gripping our children's asthmatic throats.
I'm too smart for breath- the gray hand of Death lays so firmly in the sky- Its mark Dark-
But still they carry on as small children do,
Laughing and oblivious.
The parents can feel the air as well, constricting stomachs flat and stretching
Them long like accordions- but here no Music swells!- And if only there were Music,
For such beautiful sounds often can cure a mind and cleanse a soul
Free of the imprisonment of Death and his brother Life- a nice in-between place-
Neither a shout of joy nor a scream of pain.
Laughing and oblivious,
And is there no greater gift, as the world that lives in ignorance is quite happier
Than the grand old empires and countries of this world- Can we not see that
Happiness is not rooted from war- God rest our friends sent into battle-
But instead from the thrice accursed ignorance-
Always so warm and comforting when you decide to sink in, and you bite your tongue,
Hoping that the in-between place can be Your place, and My place as well,
And that we'll all stay there in our Garden of Peace, wallowing in our ignorance,
The happiest people in the world,
Laughing and oblivious.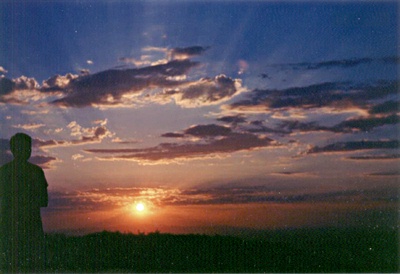 © Jovee B., Dededo, Guam