Speak
October 14, 2009
Speak.
I want you to use the voice that you were born with.
I want the roundness and smoothness and hurried tones
of your voice more than I've ever wanted anything
before.
Your words deserve to be released
from the polished silent luxury
of your mind.
The sentences and speeches that you could
toss out with a single twist of your tongue
would
save
the
world
if you let them.
Speak.
Stop being the person who fills up the corners
of benches
and acts out a story of her own happiness.
I want you to spell your soul
in the way that we both know
you've always dreamed of.
I want to see you silence a room
with the quiet power of
your speech,
and then
I want you to scream, shatter the
sound barrier,
let everyone know
the imperfect truth of you.
Everything and all of this and more
should be yours
but is not.
And when I watch you in the mirror,
notice the line of your jaw
that is also mine,
the sadness in your eyes
that also belongs to me,
the tilt of your lips
that could only ever
belong to us,
I want to hold your two hands
and tell you,
command you,
to speak,
but I do not
have
the words.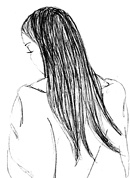 © Miranda B., Neosho, MO