Football Kiss
October 11, 2009
My heart spins faster and faster. The beating like a drum. I feel his hand as it inches nearer and it suddenly silent. He different than any guy that I have ever known. My heart is racing ten times faster than it's usual set in stone. He climbs up two steps of the shiny bleachers. I grab his hand and pull him up, just as the crowd explodes in cheers. We won the wining point. My fear is gone.
My heart is beating fast. It's sprinting in my chest. He pulls me closer and plants his lips on mine.
I stop breathing.
I stop beating.
When we pull back, my eyes are misty. I am no longer beating fast. But my hands cup the darkness of his chin and I sigh. I will survive. People file away from the football stage when I first lay, my heart away. We stand perfectly still in the bright, white lights. Understanding why. Understanding why.
No more racing.
No more scared.
We are here.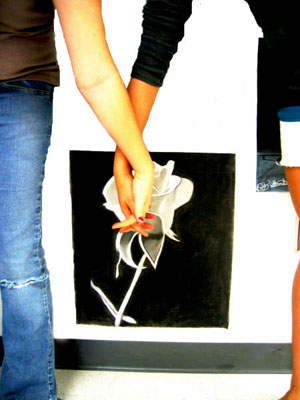 © Josie G., Wilmot, SD