No More Nights in Fear
October 5, 2009
I look around,
I take it in.
Can't hear a sound,
But I feel my skin.
I'm just a girl,
no more or less.
In this world,
Though I second guess.
Inside of me,
You can't deny.
A ghost you can't see,
With secrets that suprise.
A lonely child,
Going insane.
Who wears fake smiles,
To hide the pain.
A tear falls,
But not the last.
A name no one calls,
So then I run fast.
Away from pain,
Away from tears.
No more friends to gain,
No more nights in fear.


Now it's your turn,
to look around.
Take it in,
Can you hear a sound?
Are you more or less?
Do you second guess?
Are you a lonely child?
Who wears fake smiles?
Do your tears ever fall?
Is your name ever called?
Do you runaway from pain?
Do you have friends to gain?
Are you ready to escape tears?
Are you ready for no more nights in fear?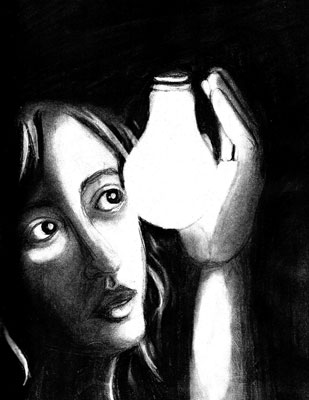 © Jessica P., Bethel Park, PA