For Now
September 8, 2009
I can feel your eyes on my back,
Piercing cold blue,
But I think they are beautiful.

Like the sound of your voice,
Low like a tuba,
But soft like a spring melody.
And smooth like hot melted butter.

Your smile is as vibrant as the sun,
Your eyes sparkle like stars,
When you laugh.
Lighting up my day.

When you look at me,
The butterflies come for an unwelcome visit,
And my heart beats hard against my chest.
Like a woodpecker on a fall morning.

But one tear glides down my cheek
As I remember my broken heart,
And start wondering,
If that'll ever mend.

So for now,
You're just that broken piece of my heart,
That you broke off,
A long time ago.

For Now.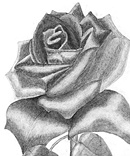 © Nghi L., Phoenix, AZ