Just Being a Teenager
MAG
September 7, 2009
I've heard it so often,
I've seen it so much –
and all I think
is, How Dare You?
How dare you put the blame on us!
Is it our fault we're growing up?
Isn't that what you want us to do?
You take away the fun
and leave behind the serious.
You say we're too young
to worry about certain things,
But at the same time
you say we're too old
to act like children.
As soon as something goes wrong
and you don't understand,
The first thing
to hit your lips is,
they're just being Teenagers.
How Dare You?!
We try to hold on
to the kid inside,
but now we're too immature.
We try to let go of the kid inside (and it's a crazy ride) –
now we worry too much!
What do you want?!
Don't you see
that who you want us to be
is driving us all crazy?
Don't you remember
what it was like?
The tears, stress, and worry?
The reason we say
you don't know what it's like
to be a teen today
Is because you never stop to listen
without contradicting.
You always say to grow up,
but don't grow up too fast.
Just choose between the two!
That's why we all come out
in such a mess.
Being a teen
is all about being in between.
The mess that's never us.
That's why most of us
choose to leave,
'cause we're tired and sick –
of being in between.
We're tired of being teens.
We just want to be ourselves,
without you contradicting.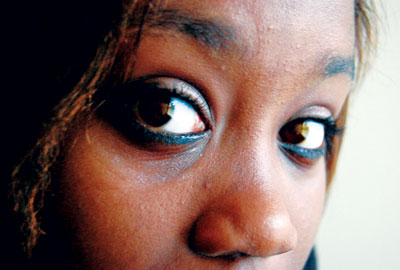 © Kayla C., Burlington, NC