The Tree
December 12, 2021
acorn holds a vision of a tree
rolling under the picnic table by squirrels
crunched by picnickers' feet.
in the seed you crack
all is present—the sunflower's dark hundred eyes
an apple core holds the promise of an orchard.
leaf, blossom, pollen—all is here
as the pages of the tree unfold;
here is the light the tree will absorb
the angel feathers landing on its branches
oriole preludes, shade, summer, initials
here are the wings, curled tightly.
free of fear, the seed falls,
as a small dream memory arises from the dark damp night
leaving a curl of a vine growing from death
wispy green.
it's like to that to have a story inside my head
waiting to fly
from shallow ground
one almond, one white petal at a time
I open my eyes, and I hear the faint symphony
behind my ears, growing steadily, one note at a time
in the spring it becomes the story tree
and I am the gardener; but this story seed
has chosen me—I did not make up the story, it made up me
the story, the music chose me
to be its cave, its hibernation place.
rosy with the May sky, it will creep up
and grow and grow.
For some, a story is the rose thorn, danger, prickles
for me, one petal after another
unfolds and unfolds
in a most beautiful life.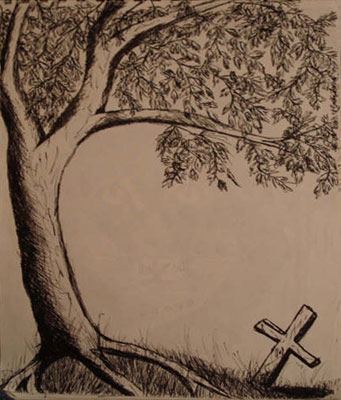 © Courtney K., Bethel Park, PA