A Walk
MAG
The shivering trees arched over the sidewalk;
we ducked to avoid dwindling leaves.
You grabbed a leaf and held on until the tree let go.
You twirled it in your hands nervously,
threw it up into the chilled air
and we watched it fall to the ground.
We didn't talk much, just laughed at each other,
hands retreating up into sweatshirt sleeves,
arms folded tight across our chests to keep warm.
We walked fast and in step,
even more unsure of all this.
Our eyes met, we laughed again.
I let my arms swing down beside me
and you followed.
At six o'clock, we were almost home.
We'd already been around the block three times.
Shivering as our walk slowed,
I felt your sweatshirt-covered hand
touch mine, still hidden in my sleeve.
You asked me, "Another lap?"
I squeezed your hand against mine
and nodded yes.
Our nervous, sixth-grade steps went on,
but our hands never really touched.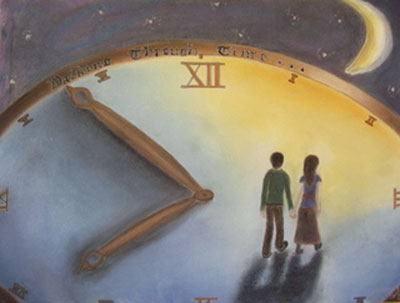 © Carollynn G., Hawthorne, NY