THE MARKS THAT HUMANS LEAVE ARE TOO OFTEN SCARS
December 5, 2019
1. Agony
My skin becomes mulberry leaves and the silkworms feed on the effervescence of nostalgia at all the places you touched me. They spin cocoons of hysteria which are dipped in steam to extract layers of agony. And all I am left with is a silk yarn with marks of burns. These blots remind me of you.
2. Homesickness
The more I try to escape from my agony, the deeper it digs inside me. It finds its home but i am still wandering on the roads of grief. The pillow becomes my refuge as I delicately place trauma on my eyelashes. My dark kohl blends with the melancholia. And again, all I am left with is black marks of desolation on my pillow.
3. Vulnerability
I don't bookmark the pages I read anymore. I am afraid of finding a withered hibiscus obscured by the suppression of fantasy in between the pages. These flowers make me believe that there is a life after death, though trapped between the lives of a few characters. And I am left with marks of HOPE sewing stiches of HURT all over my body.
4. Hollowness
I fear going back to the things which I left long back. I have lost track of time. I wear two wristwatches in the hope that one day, I would be able to betray time and find myself at a place called nowhere. The ticking sound of the hands of the two watches play a cacophony in my ears. And again, all I am left with is marks of hollowness on my wrist.
5. The walls of my skin have too many cracks which I fill with words weaved with my torment. These words breathe the fumes of my ashes and get accumulated in a poem. This poem is another coffin in the graveyard. The world will not cry if it disappears, but if you will let it waltz on the tip of your tongue, in this world of marks, you will become a scar too.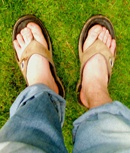 © Caitlin E., Sammamish, WA