AndYou Dissapeared
April 28, 2019

I wait for a memory of you.
The fat pasty heads of
hot, sticky nightmares
show their bald scalps.
Memories that cause
goose-fleshed nights crawl,
ants under my skin,
milk on my tongue.
I was 12 when
"best friend" was solitary confinement,
when suffocation became synonymous with
a broken heart necklace.
I was 13 when
we rolled across
endless waves of black asphalt
to the tennis courts
at the country club
where the people behind checkerboard fences
wore mirror faces;
regular, smiling, suburban.
The boys in
the court shouted to us in
slippery voices,
boys with
tennis ball heads,
who we flipped off and taunted,
feeling united,
feeling vulnerable,
feeling wanted.
This was one of the good times.

We were 6 when your family
split in two,
I was 10 when
you called me
stupid
an idiot
like a child.
I was 13 when
my friends said
you looked like their nightmares.
I was 14 when
your head came undone.
I was 15 when
I saw you last.

I knew you forever.
And then you disappeared.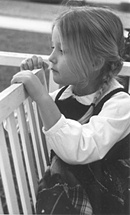 © Amy B., Alabaster, AL