Ode to a Mother
April 2, 2019
A beauty—
A miraculous creation of God— an orange rose bloomed.
Your eyes light up my world.
As I struggle through the torment life brings, you urge me forward with the push of your hand.
And it's fair— as I begin to struggle as you have—
The hips that cracked in two, a chest ran barren with each time you held me to your heart.
Me, but a shadow wandering this world, allergic to the Sun,
You are my warmth.
I love you, a woman who needed NO man,
You chose to love me still.
Without judgement, without fail.
Please, live forever.
Mother.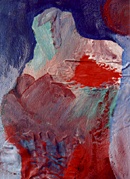 © Chris B., Phoenix, AZ