Rollercoaster
March 5, 2019
Who goes up and down?
Me, on this rollercoaster.
This rollercoaster ride where i can't tell the sky from the ground,,
When laughter and screams are the only sound
And my friends around me are drowned out by the rushing wind and the blood beating in my ears and the tears in my eyes blur the world around me.

I am stuck on this ride,
A terrible ride
An infinite, bumpy, loopy, fast, dizzying ride of terror.
Swirling colors, rickety structures,
I scream and I laugh,
I close my eyes in fear,

But in times of great wonder, I peek from underneath the spread fingers of my hands
I throw up my hands and my heart beats faster and the colors rush past and the loops and dives keep coming like there is no tomorrow.

But, but, I know a day will come when once again I am glued to my seat, scared to look over the side or smile for the camera, so today I smile,
And think,
Someday this ride will be over, but not today.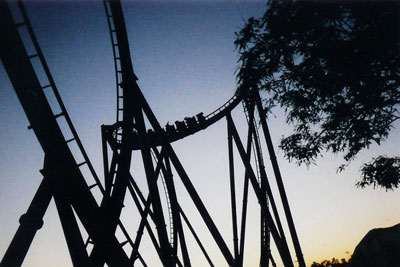 © Aaron S., Shelby, NC