Differences Are Often Similarities
February 8, 2019
The question was raised,
Do we really measure heat,
Or do we just compare it to cold?
The truth is in the simple answer.
Heat,
The warmth we feel
When ice consumes us,
And then vanishes,
Through love,
And a small bowl of chicken soup.
Cold,
Like the pack of peppermints,
Hidden deep within our hearts,
Controlled by our own minds.
Regardless of what science states,
Heat is measured in
Patience, kindness, and love.
The vanquishing appreciation of truth
Is in the depths
Coldness creates and endures.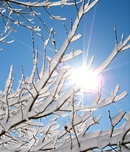 © Barbara S., Hoffman Estates, IL