Aurora Borealis Of Ashes
MAG
April 21, 2009
The waves, driven toward us by long-traveled winds, crash against the shores.
Likewise, our hearts crash against our bodies – our minds too – with such force that we are sent flying through tornadoes of turmoil and whirlpools of confusion.
We collide against What Ifs and If Onlys and What Nows and How Lonelys.
We are lost.
Labeled Broken Beyond Repair.
We break into pieces.
We long to be reassembled.
We are the waves breaking at the shore, reluctantly returning to the ocean, though fixed and full.
In this dark night, we see not the creation (nor the build-up), but the destruction of all beauty.
The crashing of waves.
Together, assembled, we embrace the unknown darkness that surrounds us – knowing that those tornadoes will always await.
We jump into an endless ocean of safeties and dangers, of serene forgiveness, of deserved peace.
We learn to see past the destruction, past the crashing and the breaking of waves.
We stare remembrance, renaissance, the redefining of all humanity straight in the eye.
We learn to throw away our fear, to tear up our nightmares, to lock away our insecurities.
An Aurora Borealis of Ashes fills up the hole, the aching hole in our lives.
Slowly it disappears into a distant land, ­awaiting recognition, awaiting guidance.
Where tears were once strewn, smiles arise.
Out of the black sky emerges a crystal-white bird, floating in its own aerial ocean.
Serenity vibrates – RADIATES! – off every movement, breaking the night's darkness, breaking the darkness's stillness.
We see beauty in the breakdown.
We see beauty in the reincarnation.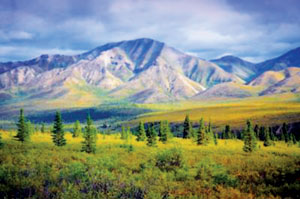 © Haley L., Anchorage, AK