Flea in the Fur
January 25, 2019
The flea that crawls from the rabbit's fur–
As Sophie said–
It's lonely there.
Clinging to the bristle
Of a bunny's back
Swaying; uneven
And terrifying
And fascinating.
I lose my grip
And plummet
Past the endless field of pasty-white corn
Hurtling violently, and without a sound
Then past, and past the hat, of course
And down, of course
And nowhere at all.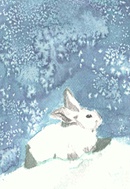 © Megan L., Desmoines, WA