january sunset
January 13, 2019
Why is the warmest dusk
when no one is looking
past the fogged glass,
where snow falls
and glitters like lost jewelry?
Does the sky melt into peach candle wax
and lemon tea froth
because we think we've got our own,
in the comfort of our home?
Those banks of snow
over parking spaces
remind me something's missing;
I cannot replace it with words,
paint, or songs.
When it returns, it'll be right there.
under january's indigo night sky.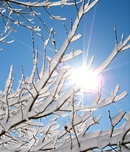 © Barbara S., Hoffman Estates, IL