BALLAD OF A BARISTA
August 10, 2018
I wake up before you do.
You come to me half asleep.
I man the percolators,
Stock the cupboards,
Heard the Styrofoam thermoses unto you're waiting hands.
Bang the register into submission.
Run around and round an overworked, understaffed kitchen.
Paying no mind to men that wink,
Surviving the morning shift of tight fisted people.
The aroma of coffee,
The stampede of people.
True New Yorkers all of them.
If I falter you shall be flustered.
My jar of tips rarely has the joyful raddle of Lucy's mug.
The man outside the entrance who runs the leukemia fund,
Has a fuller cup than I somehow.
And I fill cups for you!
Every morning of my life!
And every weekend too.
I must pretend I did not notice when a man spoke to his daughter,
"They don't do anything right here because nobody speaks English."
I must forget the look of confusion on her face.
Of course I didn't slice her bagel right!
I'm the barista not the bagel man.
The bagel man had off that day.
And still there is a sense of pride,
To keep you caffeine addicts alive.
Your aproned angel in disguise.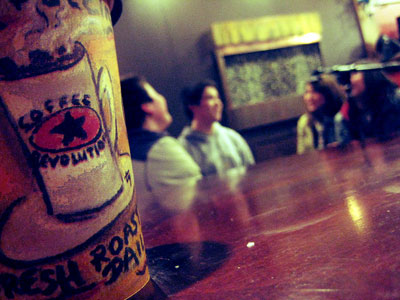 © Seita O., Palatine, IL