Sleeping on the Shore
December 15, 2016
She stands on sand, sun's scorching rays
She stays upon the shore for days
She braves the clouds that steal the light
She sleeps upon the shore at night
The crashing waves live just to spite her
There she stays, alert, despite her
Beating heart that will not rest
That bloody mess inside her breast.
I left her there upon that shore
So many months and years before
I held those hands that wind and gale
Have made to rot and thin and pale
I left her there, and out to sea
Went I, but on the shore was she
I left her there to stand in hell
My worst mistake, I said farewell.
She stayed on shore, she had to be
Close to ocean, close to me.
She slept on sands till morning light
I slept on bloody rocks that night
I slept beneath the ocean's foam
I broke my promise, won't come home
My heart was stopped with ocean tears
And has been for these many years
She slept on shore, as she still does
She stays upon the shore because
I'll be back soon, the voices say,
If only she waits one more day
But my one fear is that she'll find
The lies that bounce around her mind
And me being her only home
She'll sleep with me beneath the foam
How long till she decides she's dead?
I have to live inside her head
I am the voice that her hope drives,
Telling her that I'm alive
For if I don't, she'll understand
And sleep in waves at her own hand
My hell and heaven happen here
Whispering inside her ear
But one day nature must have pity
Sending her into my city
Then we'll meet upon the land
Finally I'll take her hand.
On the sandy shore she'll fall
I'll never hear the ocean's call
The ocean is an evil ghost
Who stole the one she loves the most
Who makes me give this hope galore
That keeps her standing on the shore
That keeps her from the ocean's floor
For she can't stand for so much more.
One day we will meet again
Although we'll both be dead by then
But till that day she's full of fright
And sleeps upon the shore at night.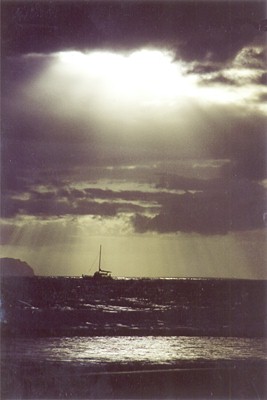 © lily H., Kekaha, HI