The Edge of the Cliff
March 10, 2015
Everything in my life has led me up to this point.
My stomach Is turning and my heart is racing.
My eyes are puffy and my hands are shaking from the problems that I'm facing.
I can't let them down, I can't disappoint.
Let's backtrack to four years ago,
When my body and mind were tortured.
My family brought me down, made me feel low.
It was depression that I bordered.
Three years ago I had invisible tape on my lips.
My body moved every which way twenty times a day.
What shrunk were my hips.
I was scared of what people would say.
Two years ago In my pillow I wept;
Couldn't get out of bed on dreadful days.
Closing my eyes during the light but during the darkness I never slept.
My parents said it was just a phase.
One year ago is when the fear came;
Fear from society,
Fear from the shame,
What fills me is anxiety.
Now I'm here staring down at the sea;
One foot off the rough rocks.
This is where I belong no one would disagree.
In my head I hear the clocks.
And I let go , for a moment I'm flying.
It's like the pain has left my soul.
The thought hasn't occurred to me that I'm dying.
The day I died a piece of me was missing, I wasn't whole.
I'm one with the ocean now.
The shivery mighty waves crashed against the shore.
My actions are what the sea allows.
I move with the waves, the sun and I'm not myself anymore.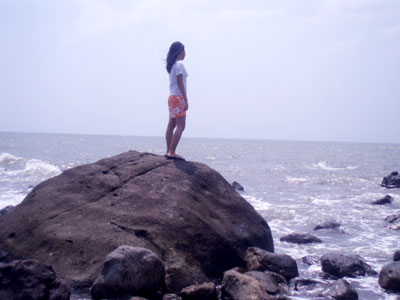 © Grace L., Bacolod City, Philippines