When the Power Went Out
February 28, 2015
When the power went out, I decided to live underwater.
The eels could no longer hurt me, and I heard the sound of dying alarm clocks as I dove in.
In the ocean, I breathed off of other people's breaths,
Exchanging bubbles until my lungs learned how to swim.
Above the surface of my subconscious, San Francisco danced in the darkness.
Hospital beds lay filled with corpses, and people set fire to the trees.
I lay unsigned, and watch man made sparks fly across the clouds.
When the power went out, the sound of static finally silenced.
I could hear the clownfish laugh, and the telephone poles recoiled under the earth.
At the corner of the universe, a teenager cried for the internet to come back.
In the beginning, people reeked havoc on one another,
Cannabolism thrived in the elevators while terror took tole on Tokyo.
I sat in a bathtub, letting my skin prune in the pitch black water
While the world around me sobbed.
There are only so many things you can tell yourself when you are afraid of the dark.
"It'll be okay" remained unsaid, because the moon refuses to let us lie.
And with each blink, I made a promise to never blow out my candles.
I forgot how magnets worked, and imagined Mother Nature buffering.
Before the death of my toaster, I watched you stick your tongue in electrical sockets.
You were beautiful,
Tasting the last drops of shock that might never come back again.
Your laugh stung my cheeks like the whip of wires.
There was a flicker of it in your eyes, you see.
The lights bounced back and forth like fireworks trying to escape.
Maybe that's why you stayed on dry land.
You tiptoed on rocks, never let the water lick you,
And I let you hide inside my skin until the rain stopped.
After a while, people began looking for ways to turn the lights back on.
As much as I hated the dark, I knew that the light would only reveal more bodies.
For a moment, I wished you were not with me.
But I knew that being alone would fry my heart.
When the power went out, I purchased scuba gear and and conditioner.
You thought I was crazy, but at least I knew what I was doing.
It took me 23 times to tell you my plan before you fully understood it.
I told you that I loved you, but only in poetry did we know it'd survive.
In the distance, we watched stolen flares go by like shooting stars,
And threw blowdryers off the balcony.
Who needs batteries when the screams of lost children can reveal the monsters better than flashlights?
I remember you making forest fires to remind me we were alive.
Glue guns and television sets made us feel tired, and the glow of the jellyfish dimmed to shattered light bulbs.
They whispered to us that the power was gone forever, and you rejoiced.
Swallowed glow worms and bit cords until I asked you to stop.
Later, I realized that not only the power was disappearing.
You stopped telling me you were there, and our hands grew further apart.
I longed for damp hair and the audacity to splash around.
Remote controls wandered aimlessly on the land, like broken arms,
Searching for something to attach to.
Newborn children graced the world, never knowing what the sky had looked like before.
At some point, everyone starts to forget.
When the power didn't come back on, I told you that I missed you.
Your eyes flashed in sadness, but waited for me to stop.
There is a legend that water can wash away memories, and that is why we cry.
I was afraid you would always remember me, and so I had to leave.
When the power went out, I remember screaming for someone.
I remember the grumble of backup generators and open fridges.
Without being able to forget, I began to feel overwhelmed.
On the night I retreated to the water, you carried my belongings in a basket made from a collection of wires.
We stumbled through the darkness, stepping on broken glass and matches.
Finally reaching the sea, I stood knee deep waiting.
And when the power went out,
You placed your lips on mine and I felt the sparks surge through my veins,
And for the first time, I was electric.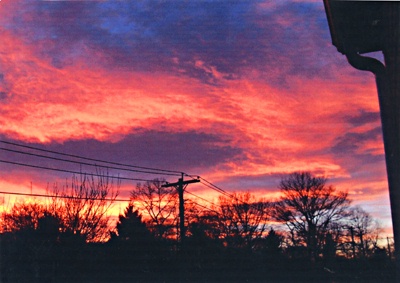 © Robbie M., Milford, CT