ten things i know to be true
November 2, 2014
1. my sister wears black eye liner, mascara.
Makes sure the foundation covers her skin fully.
Places her hair over her forehead
to make sure the birth defect
is hidden, to make sure her
individuality is shown only
in the clothing she chooses to wear.
2. perfectionism runs through the women in our family.
Runs though our veins, pumps through our glass hearts.
3. the autumn chill now has eaten the summer's glow away.
4. my mother's kisses cannot mend my wounds anymore.
Though she still tries to make me whole again, boy does she try.
5. my father goes out every night,
barely keeps the house stored with food.
Takes his precious time on the dates.
Sips his coffee slowly. Pretends all is fine.
6. when they spit in my face, i smile back.
7. depression is not a sign of weakness. It is a sign of being strong for so long.
8. Mental illness is not a trend, or a fashion statement.
9. i am still here, still writing the words i cant make myself speak aloud.
10. i know a woman,who knows and understands.
Breaks barriers and walls. Comforts with outstretched arms.
Believes in me more than I ever could.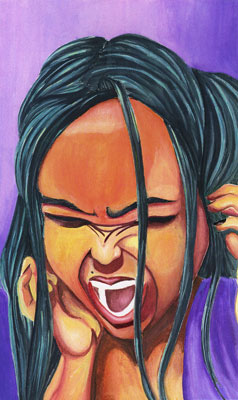 © Kriztille J., Briarwood, NY