Stage Fright
June 5, 2013
Some people ask me how it feels when i preform:
The only way to explain it is that it feels like I'm torn.
My throat steals all my words and my brain just lets go;
I trick myself into forgetting even though i still know.
My thoughts turn to liquid and leak through my eyes,
I'm a ship with an anchor but I loose all my ties.
I want to ask, "How's it feel to sink, sink down and sink down?"
In my head they reply, "We don't know how to drown."
I'm pushing out words but the door is still shut,
People stare, some annoyed, say, "It's not that tough."
But I feel locked up completely, I wish you'd understand.
My words just dissolve, they're washed away with the sand.
I feel like a house, windows nailed up with boards
My tongue, when I'm up there, just cant find the words.
It'd be a joke if I said when I'm up there I'm fine,
I'd tell a story, a poem, but i forget how to rhyme.
Maybe my poetry's meant for the beholder to read it,
But some's not, I have to say it, I can feel it.
When I'm up there I feel like I just need to give up.
When I'm talking I'm afraid that I'm not enough.
I'm a poet, it's cliche, but I can still write it down,
Yet the moment I'm up there I can't make a sound.
So how's if feel, when I'm onstage? When I'm scared and can't talk?
It feels like I'm dying and the remedy's blocked.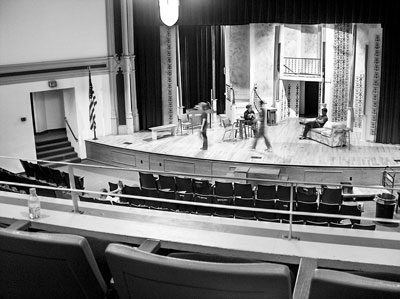 © Sean C., Princeton, IL