The Ocean Waves' Battle
April 4, 2013
Today I walked to the ocean's shore
To watch and sit by the sea,
And as I gazed dreamily upon it
The waves I started to see.

I noticed that they act like us,
Like people and wildlife,
And to tell you I have got this tale
Of ocean peace and strife.

All was calm at the edge of the beach,
When a messenger wave came rushing in
And disturbed the peace with disturbing news:
Some other waves had declared battle to win!

The watchman wave looked out to see
And saw he did the enemy waves,
So the ruler there called in his forces,
And they marched on out like noble knaves.

The townspeople waves saw the approaching foes
And fled in terror toward the shore,
But once they were safe they looked out again
Because this had never happened before.

The enemy and the good waves met
With a resounding smash and deaf'ning roars,
And the sun shone brightly on the waves
And glinted off the armor they wore.

The enemies drove the others back
And pounded them on a jutting rock,
Till at last they slipped out an got free,
And retreated back to their own shore dock.

The foes pursued the fleeing waves;
Toward the shore they followed them,
But the good waves had a trick in mind,
And were leading their foes into a den.

Quick as lighting the waves turned 'round
And charged toward the oncoming ones;
The good waves drove them back to sea
And rose up over their foes and won.

So the battle was done with the enemies gone:
Some becalmed under the sea,
But most fled from the fearsome tide:
The good waves that were finally free.

The waves, you see, resemble us,
In their rushing surge and quiet retreat
A story unfolds like a magic trick,
Of a violent and victorious feat.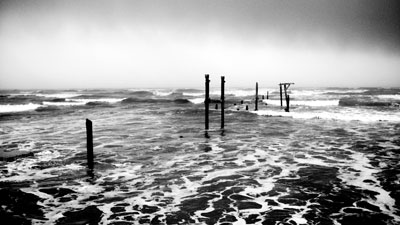 © Harrison L., Ruston, LA