The Fake Rose
June 15, 2011
I sit on the park bench waiting for you.
While the rain falls on me with the fake rose in my hand.
You finally arrive with confusion on your face.
As if something right now is out of place.
I walk closer to you and stare at your eyes.
Then we both look up at the ink black sky.
The rain is cold but it won't keep me away from love.
Sometimes it feels like the angels are singing it in the skies above.
I give you the rose and you ask, "Why is it fake?
I tell you, "Because your not a mistake."
You have a place in my heart, your always on my mind.
I want our love to last forever, until the end of time.
The love we have can never die.
It will last forever until we both fly.
I see tears of happiness coming from your eyes.
The rain is gone and now it's a bright, blue sky.
You now realize what the fake rose means.
"You bought this rose because it will never die."
"Just like my love for you.", then we hug and cry.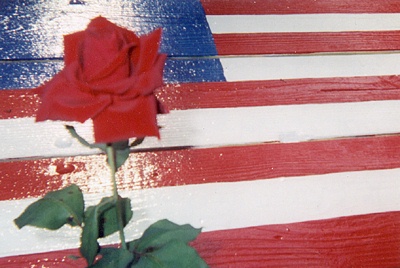 © Elizabeth H., Gulfport, MS