Resurrecting Hope
March 11, 2011
It's gone from my life.
Missing is my hope.
I have none left.
My life is on a rope.

How was it gone?
How was it killed in front of me?
Everything I faced through.
Some people can't even see.

Yet, I still have a chance.
I have my light.
The light shall guide me.
It is in my sight.

My light is what I have left.
It is like a Pope.
It is something that will save me.
It will resurrect my hope.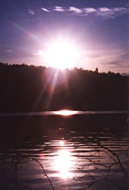 © Laurie T., Hopkinton, MA