Lullaby
May 14, 2010
He sneaks into the room, it's late
She sleeps with her hair in her face
The moon reflecting in the sky, he whispers-
"I'll sing you a lullaby.
I know you've missed me, I can see--
I poured the rest of the whiskey down the sink.
You look so beautiful when you sleep."
He reaches down and touches her cheek.
"Hush, my baby, please don't cry,
I promise this isn't our last goodbye.
I'm sorry this visit couldn't last,
I found the key under the mat.
Even though I leave to fight,
You're all I can think of at night."
She curls herself into a ball.
"What are you dreaming?
You look so small.
I want to wake you,
but I can't take the pain
of the look in your eyes
when I leave again.
I'll be back soon, not even a year.
We can get away from here.
I love you, I always will.
I hope that you're heart can heal."
He kisses her forehead, a small goodbye
Grabs his shoes, and walks outside
In an hour she'll wake,
she'll start to cry.
In her head plays a lullaby.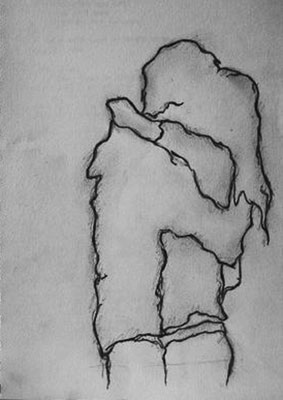 © Nicole B., Newcastle, WA