Shattered Reflection
December 15, 2021
my full-length mirror is shattered
I threw it to the floor two summers ago
when I picked it up, I was horrified to see its scarred face
becoming my reflection
throwing its brokenness right back at me
what a senseless day.
I can't get rid of it, that trash picked mirror
I should put it with the trash where it belongs
but it's my trash and I love it
and I look in it and it holds me.
as if bewitched, my mirror takes in my face
and breaks into a prism of insanity
just as everyone who sees me
sees me through the reflection of their truth
which they press into me with their minds' hands,
as if to reflect their truth in my life, my future
as if to define me—but there's no end of this dictionary
of identity, and among the thoughts and prayer that define me,
there's no end in sight, and who I am is elusive;
the girl I am slips through the cracks of the mirror,
bending down on my knees, to the level where there are no cracks
to see who I am, short, a hunchbacked smile, a flash of retrospect.
my identity, like sand, slips through the fingers of rock I'm battered against
slips through the openings and joins the windy sea
for one day, I will stand up, turn around, walk out
and be myself and never let people tell me who I am
but for now, there's only the midnight bedroom
where I sleep alone
and waking up, my face appears—
too many lies
too many mood changes,
too many tears,
oh, until the day comes on
when I throw my jar of selves to the ground,
and spill them like oil
there's only the steadfast darkness
and too many mirrors.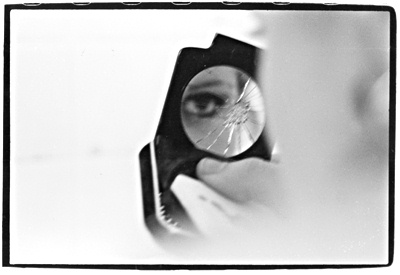 © Heather W., No., Brunswick, NJ