To A Friend
April 15, 2018
I once met a flower afraid of the light,
who cowered in the shade of all things bright,
any trace of whatever was right because she could only see the wrong —
in herself, that is, even though she was a song,
a beautiful story, not necessarily long,
but filled with the glory of "strong" itself—
shelf the gory details.
Strife of tales produced a veil of life
Introduced the dull knife of a razor,
since they never did raise her quite like they should have.
Her paths could move mountains,
but they counted her misunderstood
good riddance to the girl who never really would
amount to anything—
anything but love,
anything but the stars above.
All of my scars were free of blood
because of her embrace.
Her face was a painting,
was capable of tainting the strain around her
with the grounded existence of peace.
The screaming never ceased
but whenever she was near
I could not hear anything but the beaming of her heartbeat.
The seemingly defeated was able to care
was able to share the burden
of unheard words.
She couldn't see her worth,
but I could, and I did.
I saw her hidden in the woods,
saw the bleeding of her skin,
the needing to "be"
and to never have "been."
I felt her confusion
welted into an illusion that nobody cared.
How scared she was,
unaware of all she'd done for us,
all we'd become because of her beauty.
I wanted her to see what was in front of her,
to be confident of our love
and that we'd never leave,
get rid of her,
that she shouldn't believe
I would go anywhere—
that I would be anywhere
without her guidance.
Without her alliance, I would be lost.
She made me smile, no matter the cost,
all the while faught mile by mile
through hell.
I wanted to tell her.
I wanted her to know.
I could never truly show what she'd done for me,
would never make her see
that the time she'd been spending,
the warmth she'd been spreading,
embedding in the hugs she'd wrap me in,
meant more than what "could have been;"
and that the crappy life she'd been attending,
pretending —
it could never take away
her someday-happy-ending.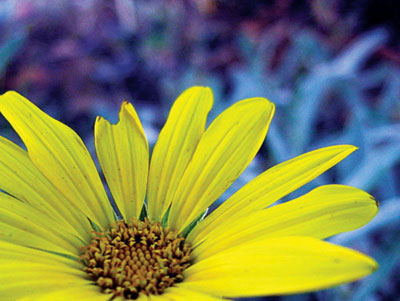 © Roopa S., San Jose, CA