The Scheme of Happily ever After...
April 3, 2009
Many live for money,
Or love or lust or greed,
They can't wait to party,
To drink and drive or other things...

Others just seek fame,
To be our only idol,
To show us what we are not,
And wallow in their stardom.

Some just want trouble,
That siren is all they need,
Gangs, drugs beer, they've seen it all,
Not a law left unbroken.

But I chose to live differently,
So I try what really matters,
All in all, I picture the scheme,
Of Happily Ever After...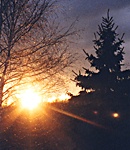 © Vhristy S., Germantown, NY