Protecting Baby Boy
March 24, 2009
The footfalls sound like snare drums.
The air fills with laughter and trills as he comes
with his parents inching after.
Auntie and Uncle are here already
with cousins, like me, and Grandpapi.
Come and see, come and see.
Next to me,
he takes his seat and makes a plate.
He sits on his perch
spitting more trills and chirps as his
arms start to wave,
and his parents beg him to behave
coarsely disguising their pleas as orders.
Their son concedes and lives a bore.
Peace ensues once more
for a few
minutes as Baby Boy's energy stews,
and he concludes,
his fork is overrated.
I pray for mercy with bated breath,
but his daddy's jaded.
I can see, I can see.
The sparkles sprout wings,
springing forth from his eyes,
drifting over the pies,
landing on his father's nose to
scuttle in and under his skin
while Grandpa sips a gin and tonic.
His hairless head tints itself
to a purplish red that matches the flame
behind his eyes of timber wolf grey,
just like Baby Boy's.

At Hell's gates,
the tectonic plates
steadily creep towards the elastic limit
where an epic battle will desecrate
our Baby Boy all caught up in it.
I won't let him
see what I can see.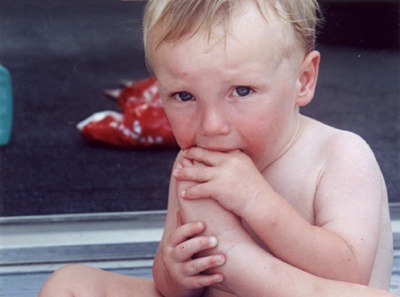 © Emily S., Hanson, MA