Poems Can Be For Normal People Too: A Sestina
August 31, 2017
"Deep" poetry is so overrated as a way to express ideas.
I used to think it was the only way to show my(true)self,
until I realized that my true self does not use irritating phrases and pretentious words
like "heart aching in dusky night" and "magniloquent", things I thought I was supposed to write,
until I accepted that it is exhausting and incredibly annoying to use a thesaurus
in order to hide my 15 year old immaturity and pathetic vocabulary shame.
That's right, I am liberating myself by stopping pretending to be "deep". Shame
me if you want, but my ideas
aren't fancy or rich, they need no thesaurus –
it will be just me and myself,
and my silly (occasionally smart) thoughts that I love to write
using normal, human words.
So, no fancy, superior words
that cause simpletons (like me) to feel shame
when they don't understand – No, I will write
exactly who I am with every idea,
because feminism says I should be proud of myself
without needing to hide behind an ostentatious thesaurus.
For my 13th birthday, my poet aunt bought me a real life thesaurus:
A big fat book with way too many big fat words
that I still don't understand how anyone, including myself
would ever use – not gonna lie, I felt shame.
I hid it away, lied to my auntie "I'm already coming up with ideas"
but really, I was feeling zero desire to write.
Then, out of nowhere, a miracle happened: I started to write
to, of all people, my grandmother who never counterfeits ersatz ideas (thanks thesaurus) –
she is too stubborn, uh I mean, confident in her own ideas,
she is unbelievably smart, but sometimes utters mean words
that I feel good about arguing with without shame
knowing I am defending values that I hold dear to myself.
This poem is already too long, if I do say so myself,
so I will wrap it up: I write
with no shame
no thesaurus,
(because I attempt to be confident in my own words)
to convey my sometimes clever, sometimes funny, often dumb ideas.
From now on, I am telling myself, to be proud of my dumb ideas,
to write and celebrate my crazy words,
But I will keep on the shelf, as a reminder of the shame I am overcoming: my dusty thesaurus.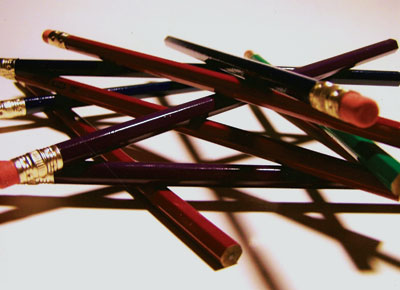 © Nicholas K., Weldon Spring, MO