Here's why.
June 8, 2017
So here is why I am afraid of guys
You guys have a tendency of demeaning woman and treating them like half the people they are and make them believe it to a point where they end up not knowing their own worth
What makes you think "you guys" have so much power that you can suffocate me with your masochistic views and force me to swallow my words with no water.
I have a voice damn it and I am not afraid to use it
Sometimes
When I know I won't be put in place, in a dark alley of some deserted street, beaten beyond recognition or perhaps on the kitchen counter, being reminded that I either cook so you can eat and feed your ego or with my legs spread wide with my cake on the plate as I get eaten to satisfy your ego.
Here is why I am afraid of guys
"You guys" are a constant reminder of the burden that will never be lifted from my shoulders as I know millions of you are produced on a daily basis, a reminder that one day I might have to take the side of an abuser, rapist or murder as he pleads guilty for being a man. The burden I might one day have to carry in my belly and nourish in hope that one day he will grow and flourish in God's image.
Guys are the reason I cannot walk down the street in confidence that I am safe, because as long as "you guys" are around my body draws you nearer regardless of whether or not I am wearing a short skirt or a nun dress. You guys are the reason men are not recognised in this world because as long as they have the same characteristics as "you guys" they will never be men and will forever be hidden in your shadow as wait for their time to fix the line of a broken telephone that whispered the lie of what it truly means to be a man.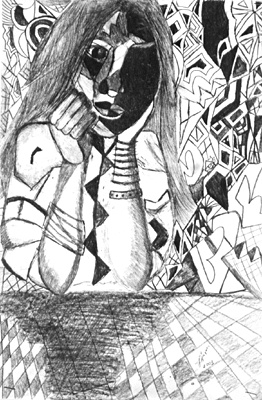 © Joy H., Kannapolis, NC