Heartplace: New York
MAG
April 6, 2017
I ascend from the steps at quarter-to-four,
A black book of music secure in my hands,
To a screeching display of a different score:
A jumble of streetcars and roasted-food stands.
I purchase my dinner and stroll up the street
Toward the place where my fears and my promises meet.
Here humans never sleep, but dream
Of lives fantastic, manic; Wild
As headlights blaring in high beam
And laughing, brazen, like a child:
Drinking the blood of the polluted night,
Creatures of blackness that fades into light.
Sometimes at twilight they tremble with pain,
Manholes steam white from their-black abyss;
Cataracts in this eye of the hurricane,
Blockage diffusing the relative bliss.
A City of Dangers, my father once said,
Ready to pour heartache into your head.
I am but a dust speck, duffel slung low,
My shoes soft and shapely against my back,
In this compound of molecules; row after row
Of iron and steel surging track after track –
And clamoring voices, a bleak monologue
Of dauntless skyscrapers that melt into fog.
Each moment I pass here is slowly unbound;
A kaleidoscope couldn't blend it more well,
My body sings color and blushes with sound,
A stirring inside that no counsel could quell.
Then the lanes flush with people, briefcases a-flurry,
They sweep me up in their passionate hurry.
I walk the glittering streets at noon,
Silver and wet from a midnight rain;
The bus will be sailing me homeward soon,
But somehow I know that I'll be back again:
To this city of strangers, this city of change,
To this part of my heart I cannot disarrange.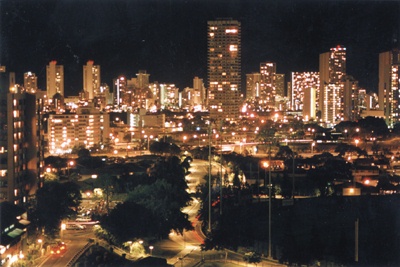 © Chris H., Honoka