Hidden Story
March 9, 2009
Everyone has a story
One you cannot tell from looking
When you look at a person you see their smile
But not them dying on the inside.

You see the smile on the prom queen's face
You see the light in her eyes
But no one sees her pain.

No one sees her cry in front of the mirror
No one sees her learn over the toilet bowl
No one sees her secretly killing herself
But no one wants to know.

You see the jock score the winning touchdown
You see him smile to his friends
But no one knows how weak he is.

No one sees his girlfriend dump him
No one sees him cry at practice
No one sees his real pain
But do people need to know?

You see the fashion queen with the hottest style
You see he make her moves
But no one knows her real truth.

No one sees her dad get fired
No one sees her at the bargain store
No one sees her at her job
But no one has to know.

We all have our own story
One you cannot see in a persons face
And is hidden by their smile
But do you want to know their story?

Ask.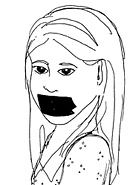 © Liza M., Vineland, NJ