Creatures
September 8, 2016
The steady stream of traffic has begun to slow ,
The warm lights in the houses have ceased to glow.
The blanket of night has settled over the world,
And the moon's radiance now shines bright as a pearl.
All the world has fallen asleep,
Slipped into a deep slumber harmoniously sweet.
No more lights streaming from windows
Or people chattering on phones.
No more yells or complaints or uncomfortable coughs,
Just silence, each individual's own private thoughts. 
Calming and tranquil and hauntingly soft,
There's only peace, no insults or contempt or scoffs.
But one little boy is lying awake in his bed,
With the covers pulled tight up above his head.
Because when he dares to tug it down, he's sure that he can see
A howling ghoul swooping about menacingly.
In the corners of the bedroom is a monster with one eye,
Glaring down at the boy, who gives a single frightened cry.
He can hear a banshee wailing inside his wooden closet,
Although nothing can be heard by the rest of the planet.
A procession of repugnant trolls have just arrived,
Causing him to sob quietly,"I'm only five!"
The world is asleep and completely unaware
Of this one child's fearful consuming despair
In the face of these monsters with teeth like blades 
Who feed on terror and and lurk in the shade.
As he turns to the wall feeling perfectly alone,
He spies something he's never seen before, something completely unknown.
A troop of tiny fairies, marching across the floor,
And another army stationed at the bedroom door.
Dainty and fragile, with dragonfly's wings,
But with the warmth and safety of an angel's blessings.
A warm feeling spreads through him, tingly and pleasant,
Like the dragon standing guard at the door is a fantastic birthday present.
Several elves wreck havoc on the room,
Chasing away the ogres and gloom.
As he twists the other way, the boy notices a newcomer;
A majestic crimson phoenix, whom he gazes upon with wonder.
The ghouls and demons desperately flee,
With a last, departing, bone-chilling scream.
With a loving smile a gnome approaches his bed,
And tucks in the sheets and pats him on the head.
Quickly the remaining creatures fade,
And back in his bed, the boy is no longer afraid.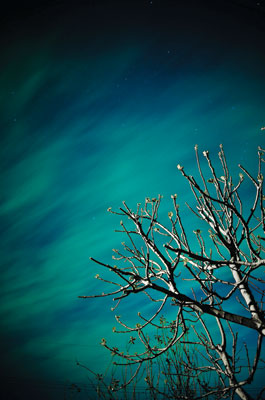 © Chyi-Dean S., North Tustin, CA