Crush
February 20, 2009
You are a mystery to me
A new puzzle to solve
And here I am writing again
Sitting in my corner by the wall
I fell again
For this guy
He is so perfect,
A real sight for the eye

His face is nearly flawless
His eyes are two pools of blue
They are like a labyrinth
And I don't know what path to choose

He walked past me in the hallway
His eyes were on the floor
I looked at him
Caught my breath
And headed to the door

I don't know why I turned to flee
This boy was a perfect sight
An undiscovered gem
In this school of darkness and fright

My friends told me his name was Nick.
Oh, what a beautiful name!
One day I know I will talk to him
And stop this 'spying-on-him' game

I watch him in the lunchroom
I watch him in band
I pray that he doesn't see me spy
He is like holding a fistful of sand

This boy is always on the move
Always thinking to himself
I'm always curious to know
What he does when he is speaking to no one else

I am praying someday soon
I will meet this extraordinary boy
Sometimes he catches me watching him
But that doesn't bother me anymore
I am the 3-year-old toddler and he is my shiny new toy
I know that soon I will love this amazing boy.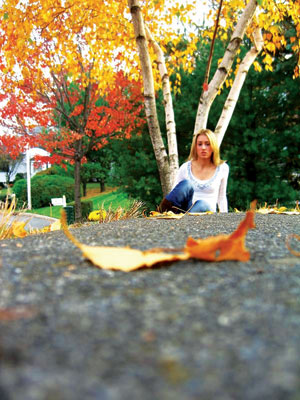 © Stephanie F., Garnerville, NY