Bloodred
March 23, 2016
I am human
Cut me, I will bleed
I won't give blood
You're full of greed
As I said
A thick flood flows from me
Now I lay me down to sleep
In the bed won't make a peep
I pray the Lord my soul to keep
The angels watch me through the night
As I wake at morning's light
But wait there's more
You must listen, imagine my pain
See in me the blood and gore
For I have been slain
By you the sword was led
Into my heart
The dark veins bleed blood red
The first drop hits the floor
That's a start
The blood pools under the door
Under the sword my heart folds
Much like origami
Help me
Why do you do this to me, Sweet Mommy?
You said you loved me
But you lied
Why? I am not dead
Why do you wish to see me
Blood red?
I don't want to die
For your lie
In the sink my blood you pour
What do you want Mommy? More?
I don't make much
Not older
I'm only four
Why treat me as such?
You took every pint
Of the red stuff
I still love you Mommy
But I have disappeared
Puff puff
I am gone, just like you always feared
I'm gone; won't be back
Like Mommy said
"Hit the road, Jack."
I hit the road when the car hit me
I know the driver
It was Mommy
Look into me. I am blood red.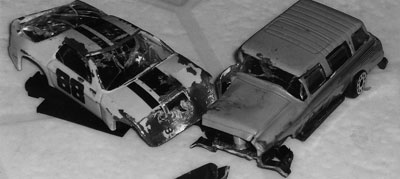 © Danny H., Chula Vista, CA