My Guardian
February 4, 2009
Into the dying sunset, over the blood-stained yard,
Between the stables and houses, past the lonely bard,
Beyond the space and the stars, beyond the waking night,
To the moon and beyond, before the minuteman's might,
My guardian protects me from harm, my savior and my friend
He watches over me, guards me to the very end.
His eyes are sky blue orbs of light, his hair like the flaming sun
His legs are long and perfect, enabling him to run.
He has a horse named Skylark and a kitten named Jen,
But he left this all behind for me, to be my guardian
His name was beautiful, reminding me of a happy place,
I loved my guardian, my guardian named Mace.
His skin is pale moonlight, his clothes golden sun-glow
He was my shining knight in armor, but never again will it be so.
It was in a desert, on a night much like this,
When he left me, with naught even a kiss
He galloped away on business, away, away from me
He rode away in the moon-glow, so his death I would not see
He had a deal with the Devil; her name was Death on High
He had to go fulfill it, knowing that he would die
I watched for him hoping that he would return someday
But he stayed away from me forever, until that last moon-ray.
I heard nothing from him for many, many a year,
But then a letter arrived, saying 'I'm coming home, my dear.'
I had screamed joyously, happy he was alive,
He was coming home, my guardian, he would always survive
I watched for him in the sunlight, but he did not come that day
He came much later, and with him was a girl named May
He came galloping to me, on his horse Skylark, and holding his cat named Jen
His features and flittering eyes told me he had committed a sin
He opened his mouth to speak, and instead gave me a kiss,
He tried again, he looked at me and he told me this'
He had ridden hard all day and all night,
He rode to his hometown with all his might.
For there would be the Devil whose name was Death on High
Instead he met a girl, who told him on her he could rely.
They traveled together over hill and purple dale
They traveled over plains and mountains pale
They traveled through desert and marsh and wood
Forget your pact, May said he should
But he could not forget his oath sworn
He would find her in the mountains Worn
He found them, on a day filled with sun
And entered them with May ready to tell her to run
But after many twisting passages she turned to him and said;
'I am the Devil; now fulfill your pact before you are dead!'
He watched as Death on High came closer to him,
He knew against her he could never win
But then she said to him, my guardian
'Show me your love way back, bring me to her inn.'
She swore not to kill me and he began to lead her home
He lead her to my inn past Rome.
'And now that I stand before you, you can know my sin:
I lied to you and cheated Death, who knew I could never win.'
I watched May, also Death, as she came close to me
She gazed into my green eyes with her purple ones, witch eyes they be
'She will die today for you believing my promise.' Said Death on High
I ducked and ran to my right, wishing I could fly.
The Witch cackled with glee, she had a prey that was afraid!
She followed me, slow like a parade
She had forgotten my guardian, which was stupid of her
For he ran after her on silent feet, drawing his sword, and brought it down on the witch, the cur!
He screamed his battle cry as she whirled around
With an unseen force his sword was shoved into the ground
He drew his dagger instead and, roaring in hatred and pain, he shoved the tip thorough her heart
She gazed into his sky blue orbs of light and watched him until she died, and she fell apart
Ashes lay on the ground where she died, and he came to me, my guardian
'She is dead now, so we will worry not. I will guard you. I will win.'
His beautiful hair flowed in the breeze as we stepped inside
He told me no more of his long ride.
He fell asleep on a bed in the living room
He slept until came his doom.
He died that night, warm and bright
Of the wounds given to him because of the witch's might
He felt no pain as he slipped away,
'I love you' I heard him say.
I almost live alone now, upholding my inn
Never forgetting my guardian
Dying for me that day had sealed the oath
He had created it for us both
He had sworn to die someday but added that he would die protecting me from his fate
He had fulfilled it, leaving nothing but an image he will create
In Death on High's reign was born strife
In my guardian's death was born life
I look upon our child now, seeing him in my little boy's face
He lives on in our little boy, our little boy named Mace.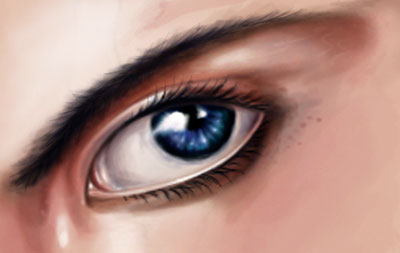 © Raul R., Monte Vista, CO