Skip-It Summertime
October 16, 2015
My heart sounds with interest
As I hold the pink ring of plastic
This magical childhood toy
That lets energy out and excitement in,
That adds to the journey of being a kid,
That coaxes smiles to the lips of its owners,
And I know what I must do.
I've heard stories
Of failure and of fun
Of legends and of none
Who can conquer the challenge
This ball-and-chain provides.
But it can't be that difficult
Right?
The ring embraces my ankle
With trepidation and a knowledge
Of what's to come.
Its rope reaches away from it
To grasp the kaleidoscope sphere,
Trying to escape its imminent dizziness. 
There isn't much to do but think,
But breathe as I reach the brink
Of what I'm about to do.
So I begin.
I twist my arm as far as I can muster,
And jump when I feel there's
No other thing to do.
But I miss,
How I miss,
The echoed slap of skin
Resounding through my head,
Until I'm angry
So angry
That I know I need to try again.
Because this ring,
This childhood experience
Is stronger than my frustration;
It cannot beat me.
I start again,
Releasing it from my hand
And as it races toward me,
My heart pumping,
My mind spinning,
I leap with eyes closed,
Hoping,
Praying
My legs will make the distance,
Will cover the snakeskin rope
In their shadow,
And when I don't feel the sting
Of a failure-induced miss,
I open my eyes,
My heart pounding in my chest
With the exhilaration
Of making the jump,
Of beating the challenge.
I keep going, counting,
And there's nothing to hear
But the sweet serenade
Of the ball scraping the pavement
Juxtaposed against the rush
Of air forcing past my lips,
My lungs heaving in anticipation,
Nothing to see
But the firework flashes congratulating me
From inside the ball
As I count the jumps
One. Two. Three.
Until I lose track,
And the world cheers
For I have overcome
The impossible.
And as I trip over the rope,
As my heart races with my legs,
As my eyes close
And a grin spreads over my face,
I am reminded of the wonders
Of being a child.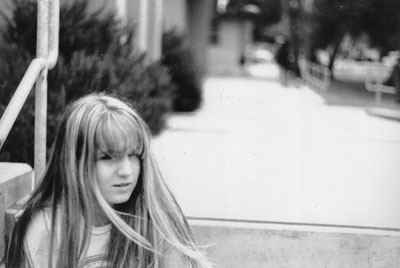 © Alyssa R., Pacific Grove, CA