God Bless the U.S.A.
January 21, 2009
The United States of America:
Beautiful and free,
Wonderful and independent,
And a great home to me.
It took many steps to get there,
But now look where we stand,
Side by side all fifty states stand together,
United as one, hand in hand.
Yes, we have our problems,
Like pollution; That problem will never dissolve,
But we won't let one thing like that bring us down,
For we will work hard on those problems to solve.
Before we had issues with people,
Their skin color and race.
But now we have learned to accept the fact that we are all different
And now everyone will embrace.
Lots of people ask this question:
How did we become free?
We worked hard together to achieve our goals,
Teamwork is the key.
So to get to my point, I'll just say one thing,
That I am thankful to be standing here today.
So God bless the almighty world,
And God bless the U.S.A.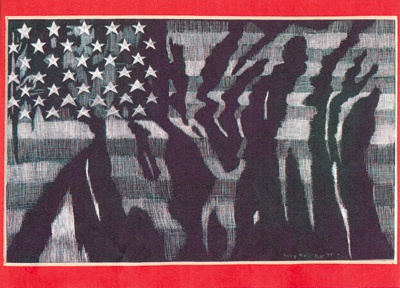 © Haley M., Ellinwood, KS