A Sestina for Her
June 5, 2015
The vanilla perfume, sweet and bitter in the air, tells me that tonight
her name will be Vanessa.
I peel away my work suit, shirt, tie and look in the mirror
to see my barren chest stretched over
my jail bar ribs, prison to my red
heart. My freedom is waiting for me, in a dress in the city, but I know
Just like I know that her full lips are movie star red,
that her sky's usually clear, and that her name's Vanessa –
(I lean in close like a lover to the mirror
and mouth the word) – that the fresh joy of tonight
will be drained fast. Sucked dry. Before I even know
that I'm sick and I'm sad and it's over.
From the dimmest wing of my mind I find and call her away from pink papers I know
are love letters. She comes out with a twirl and flounces away from the mirror
to wrap herself in polyester and rayon, imitation fabrics, red
like lust, imitation love. She isn't complete until I slip the silicone inside, clammy over
my chest, another layer between my heart and the world. Tonight,
my thickest concealer – to cover up the cracks between me and Vanessa.
Makeup and nails and shaving done, my eyes caress the mirror,
resting on her jaunty jaw, contoured nose, shrouded eyes. It's fleeting – I know
water will wash it out. Quick steps to find the vintage pumps, red
to match, patch it all up. The shoes shine like they're holy, chosen by Vanessa,
who rises a foot at a time into the goddess of tonight.
A glance at the masterpiece, and I step over
The threshold, into damp dark, and start the car toward a bar Vanessa
Would choose – one with a pianist, class, and men looking for women. In the rearview mirror,
she checks her shadowed eyes as I think about what she'll say tonight.
With a script woven from night and neon, her smile, and vanilla, I want to know
if she can win her game before it's over,
if she can charm a man's blood up to his face and steam it red.
In the purple mood lighting of the bar her collar and cheek bones glint. I know
they see the invitation in her sideways glances. The boldest sidles over,
Asks her name. I frame his face and put the picture in my secret red
box of everyday impossibilities. She says, "It's Vanessa,"
and with a woman's honey-laced words makes him crave more of her tonight.
But it's time to disappear – keep hidden the disjunction between me and the mirror.
Better that tonight he's disappointed by Vanessa
Leaving. Better that I never see his face when red releases silicone. I know
the mirror lies when it echoes back woman. A shower. There's stubble. The spell is over.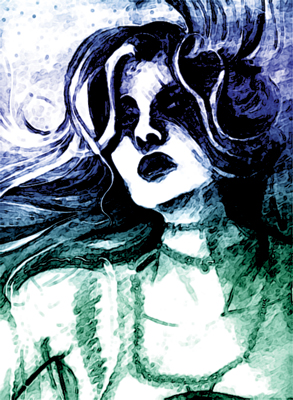 © Sindi J., Westminster, MD