Distorted Mirror
April 19, 2015
The mystery grips her still,
A bleak scene, contrived by her will.
Sorrowful eyes gaze displeased,
A grotesque form is what she sees.
She is a creation of her own vile past
A fragile mind in a hideous cast.
Her past misdeeds have ripped her heart
Drops of bitter despair from her eyes start.
From a dark featureless visage,
The glass reflects a sinister sneer,
A baleful presence extinguishes her inside.
She is fading slowly out of fear.
A terrifying reflection of the actions
A demon penetrating and capturing her soul.
An unfamiliar expression
Wrapped in the darkness by brutal control.
Her frigid hand steadily touches the mirror,
How did I summon this terror?
She did not foresee or contemplate the pain
Though the warnings were very plain.
A voice yells out, "Get up right now!"
With a stunned expression, bulging eyes beneath her brow,
She sits up in her bed.
The dreadful dream has fled.

Which is the true experience?
The dark vision or the plain day?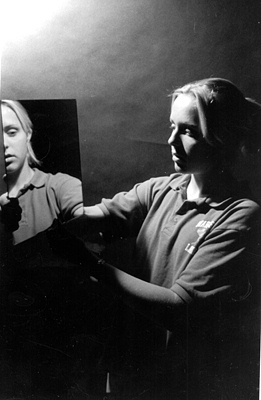 © Hadley B., Marblehead, MA