Old Hollywood Gone Away
February 18, 2015
I stood in front of your grave,
But I could not find a tear,
It took me one day, three thousand miles,
And eighty-one films to get here,
I felt the bitterness of the wind,
And the blankness of the sky,
I was stuck here in this moment,
Around me the world passed by.
I stared at the blanket of flowers,
Where underneath you slept,
And my thoughts lingered,
On this promise I had kept,
I said that someday I would come here,
And read your name in stone,
I had no company,
I had wanted to come alone.
As I read your alliterate name,
I thought of your legacy,
And the deep and personal impact,
That you had had on me,
You were the friend of the poor,
You made them rejoice,
You were the voice for the voiceless,
And had no voice.
You adopted an orphan,
You fought in the Great War,
One day you were a millionaire,
The next you robbed from a store.
You shivered in the Klondike,
And worked in a circus,
You toiled in a factory,
And showed people life was worth it.
But as I stood in the shadow of the mountains,
And there in front of your gravestone,
I did not feel your cheerfulness,
I thought of nothing but empty bones,
And I knew that you were somewhere else,
Not here in this land of peace,
Your soul was forever cemented,
In some other place.
It was in the celluloid,
The reels, the cameras and the rolls,
In the thousands of feet of film,
Was where I found your soul,
It was in those classic moments,
And movies that made front-page news,
It was in those masterpieces that made me feel,
What it was like to walk in your clumsy shoes.
I had been to Hollywood,
I had seen where you had tread,
All the while never realizing,
That you were really dead,
But then I walked down the Boulevard,
And saw you name and your star,
But even there I did not feel you,
That was not where you are.
And I do not feel you now,
As I stand amongst the graves,
I do not feel your spirit,
A symbol of bygone days,
Now, we are separated by six feet,
And more concrete than I can tell,
But even more stands between us,
We are separated by a hundred years as well,
But I suddenly felt the flowers,
They felt happy and alive,
They would sit here as a token,
As the years went by,
They were a mixture of violets,
Of daffodils and roses,
And other sweet flowers,
That smell lovely on people's noses.
I put them on the grave,
Where below lay your head,
There was a note there,
And it simply said:
'Thank you for the smiles,
For the laughter and the tears,
Thank you for the joy,
That you have brought me all these years,
You made me chuckle at your funny old ways,
And brightened my face on my saddest days,
I know that you can hear me,
From the far side of the sky,
I just wanted to tell you,
Thank you and goodbye.'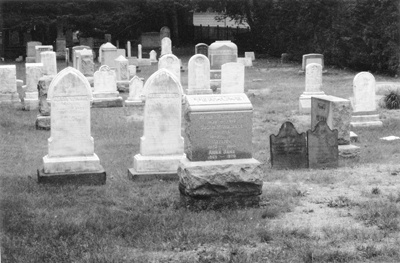 © Chris C., Pequannock, NJ